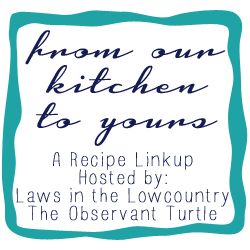 I'm excited to be linking up today with
Charlotte
from Laws in the Lowcountry to share a recipe! Charlotte is a good friend who moved to Beaufort not too long ago. It was so fun going over to her house for dinner while I was home. You can check out details of that dinner on her blog:
pasta recipe
,
table setting
, and
dessert
. I would highly recommend both the pasta and dessert! Now on to my recipe...
I have a confession to make: I've been sitting on this recipe for months. My mom cleaned out her recipe binder a while ago and sent me a whole bunch of recipes she thought I would enjoy.
I love getting fun things in the mail!
One of the recipes was Cooking Light's
Summer Veggie Rice Bowl
. I made a huge thing of it and was set for the week. It is a complete meal but you can easily add grilled chicken, fish, or shrimp for more protein.
Ingredients:
1 1/3 cups cooked brown rice, cooled to room temperature
1 cup frozen shelled edamame, thawed
1 cup grape tomatoes, halved
1/4 cup pine nuts, toasted
2 teaspoons grated lemon zest
3 tablespoons fresh lemon juice
3 tablespoons olive oil, divided
1/2 ounce fresh Parmesan cheese, shaved
Combine the first 8 ingredients in a large bowl, and toss until well blended.
Heat a medium skillet over medium-high heat. Add 1 tablespoon olive oil to pan; swirl to coat. Add zucchini; sauté 4 minutes, stirring occasionally.
Add zucchini and remaining 2 tablespoons oil to rice mixture; toss.
Top with shaved Parmesan cheese and serve.